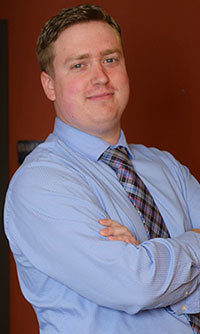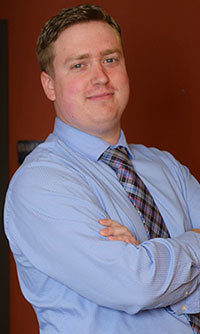 We are delighted to introduce Dr. Taylor Oberly, who will be joining our practice beginning April 1, 2022. Dr. Oberly was born and raised in the small town of Bremen, Indiana. He graduated from Indiana University School of Optometry in 2016 with honors. As a primary care doctor of optometry, Dr. Oberly enjoys working closely with his patients to provide comprehensive eye care, specialty contact lenses, and treatment for diseases of the eye.
Dr. Oberly and his fiance, Courtney, moved to Medford in 2019 after living in North Carolina for several years. In their free time, they enjoy hiking and water sports. Dr. Oberly and Courtney are always looking for new places to explore, so be sure to recommend your favorite local spot during your visit.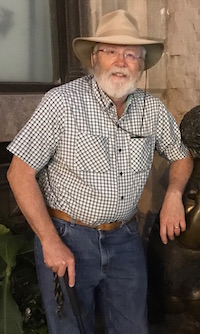 Dennis has been practicing optometry in Medford since 1978. He loves his work and his patients. His goal is to provide the highest quality eye care and professional excellence to each of his patients. He has received countless compliments from his patients with regards to their having received the most comprehensive and best eye exam they ever had. Many were amazed at how much time Dennis spent with them and how many different ways he evaluated their visual acuity to arrive at a prescription that "really works". Others were grateful because Dennis was able to spot physical anomalies that sometimes led to tumors being discovered and operated on within days.
Graduated Pacific University College Of optometry 1975. Served in the Air Force as optometrist (Captain) 3 years at Whiteman AFB in Missouri. Began practicing in Medford after purchasing Dr Urie's practice. 1978. Wife of 41 years is a teacher- (high school Spanish) and part time office worker (payroll/ etc.)
Has three children 2 boys one girl- all grown up now; one pharmacist/ one actuary/ one stay-at-home mother of three. Has 7 grandchildren with whom Dennis loves to play/read/work/etc. 6 out of 7 live very close by. Lives on small farm and has chickens, goats, sheep, cows, dogs and cats. Likes gardening and has big (nearly an acre) garden which he plants and donates to St Vincent De Paul (I mean how many yellow squash, corn, beans, rutabagas, onions, tomatoes, beets, carrots and pumpkins can one man eat????? Host family for West Coast League baseball players and numerous foreign exchange students over the years.